Laboratories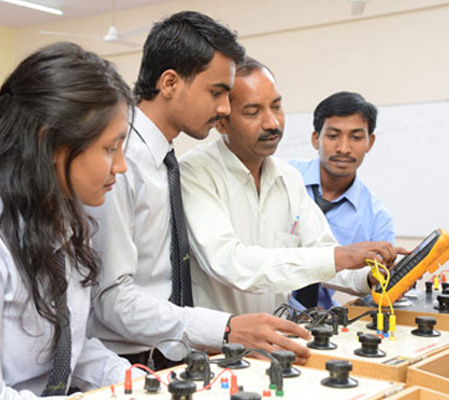 All labs are well equipped according to International standards and manned by well-qualified and experienced faculty members and instructors who assist the students in conducting experiments following the sequential steps as prescribed in the manual.
Engineering workshops have the latest machine tools, welding and fabrication facilities, foundry etc. for students of various engineering branches. Students are encouraged to hone application skills and practically verify the theoretical aspects.
Civil Engineering:
We have following labs in civil engineering department:-
Building material
Fluid mechanics
Geo informatics
Structure analysis Lab
The major equipments are:-
Compressive strength testing machine
Impact value testing machine
Bitumen penetration testing machine
Fire point of bitumen testing machine
Los Angeles abrasion testing machine
Buoyancy test machine .
Computer Science & Engineering:
The main computer lab has sufficient number of computers with dual core and core 2 duo microprocessor. All systems are connected through LAN. Campus is fully enabled with Wi-fi. Following equipments are present in the lab:-
The computer labs are well equipped with all the latest software packages and internet facility is available 24x7 to all the systems with internet speed of 10 Mbps.
Electrical Engineering:
The department has the following labs:
Control Lab / Measurement Lab
Network Lab / Power System Lab
Electronics & Communication Engineering:
With the idea of offering an exposure to what the students learn in class rooms, the department is equipped with the following latest laboratories:
Electronic devices and circuits
Electronic circuit Analysis
Pulse and digital circuits lab
Digital communication
Microprocessor
ECAD / VHDL
IC Applications
Analog communication
Microwave and optical communication
Digital signal processor
Basic electronics
Mechanical Engineering:
There are following labs in Mechanical Engineering Department:-
Engineering Mechanics
Mechanical Work shop
Material science and Testing
Computer Aided Engineering Graphics
Fluid Mechanics and Machinery
Thermodynamics
Heat and mass transfer b
RAC
IC engine
Automobile
CAD
CAM Lab