Seminars/Workshops
Sanskriti University is committed to provide quality education to every student pursuing his/her studies in any of the institutions/schools under the university. Quality education needs wide coverage - much beyond the teaching-learning process in the classrooms where topics are discussed as a part of the syllabi designed through the process of curriculum development.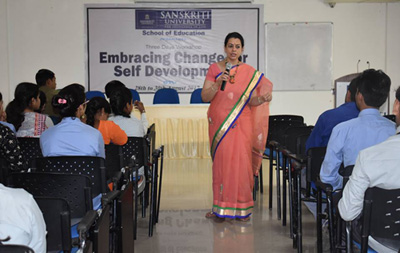 In classrooms, the teachers involve themselves in covering topics on different subjects within stipulated time and there is little scope (for paucity of time) for discussing in details on any relevant topic of academic interest. Mere classroom teaching results in incomplete learning and needs to be complemented in certain forms so that the students are properly educated with requisite knowledge on essential subjects.
At Sanskriti University, seminars/workshops are conducted on regular basis to fill up the voids in the education system. There is an annual calendar for such seminars/workshops wherein a schedule is drawn after thoughtful consideration on the relevant subjects on which such seminars/workshops are required to be organized on different topics for all courses and the speakers are chosen with due consideration of their reputation. Such seminars/workshops are not confined to any particular department - all schools / institutes under the university conduct these programmes for enhanced learning.
In the immediately preceding year, the Sanskriti conducted many such seminars and workshops - both national and international - where renowned scholars were invited to address the students on their areas of expertise. Some of the topics covered under this programme (seminars/workshops) are:-
Importance of Emotional Intelligence & Spiritual Intelligence to become Good Leaders
Positive thinking & its power
Youth Education
Career Guidance to class 10 & class 10+2 students
Leadership: Challenges Today
Motivation & power of thought
The feedback of the students is collected at the end of each seminar/workshop so that their perception can be properly analyzed for future planning and inviting subject experts from different universities / institutions / organizations for conducting such seminars/workshops.
A couple of international seminars were held of late on 'Importance of Emotional Intelligence & Spiritual Intelligence to become Good Leaders' and 'Youth Education'. The chief speakers were Dr. Marko Sarvanja and Prof. Ratchell respectively. Both have extensive knowledge, experience, qualification, expertise and the skill to deliver speech on the subjects in the manner that was appreciated by the audience comprising students and faculty members of concerned courses.
| | |
| --- | --- |
| Sr. No. | Seminars/Workshop |
| 1 | Career Guidance Seminar for Pandit Devdutt Memorial Inter College |
| 2 | Application of Internet of Thinks |
| 3 | Induction Training Program |
| 4 | Management workshop organized |
| 5 | Workshop conducted by representative of French |
| 6 | International conference on "the future of power |
| 7 | Workshop on motivation by Lt. Gen. P.K.Saigal |
| 8 | Workshop on Arts of Investing |
| 9 | National Seminar on "Positive Thinking & Its Power" |
| 10 | Workshop on CAD - CAM |
| 11 | Emerging Trends Presentation |
| 12 | Career Development Seminar |
| 13 | Smart India Hackathon 2017 |
| 14 | Seminar on Save Girl Child |
| 15 | One Day Hands on Workshop on Automation |
| 16 | Seminar on Mentoring Orientation Program |
| 17 | Seminar on Application of Power Electronics to Bullet trains and Wind mills By Dr. S C Kapoor |
| 18 | Workshop on Customised Vaastu by Mr. Naresh Singal |
| 19 | National Science Day Seminar differently able Person by Dr. Gagan |
| 20 | Seminar on Microsoft Technologies and Certifications by Cryolite India Softwares Pvt.Ltd. (Lucknow) |
| 21 | Seminar on GST (Goods and Services Tax) |
| 22 | National Conference on Tourism & Hospitality Industry In India At Sanskriti University |
| 23 | Career Enhancement Programme with Bhutanese Students at Sanskriti University |
| 24 | 3 days Workshop For Embracing Change For Self Development |
| 25 | Institutional Training Program PCRA held at Sanskriti University |
| 26 | International Day for Preservation of OzoneLayer |
| 27 | Three Days Entrepreneurship Awareness Camp |
| 28 | PDP Classes for Students at Sanskriti University |
| 29 | Seminar Organised by School of Tourism and Hospitality on World Tourism Day at Sanskriti University Guest - Dr. (Prof.) S. Inayat Ali Zaidi & Dr. (Prof.) Sunita Zaidi |