Educational Trips
The basic purpose of conducting educational trips is to provide an exposure to the students about the business environment. In professional institutions, such educational trips are known as industrial visits.
The students visit industries which are relevant for their studies and gain practical experience about operation & maintenance systems of different industries. Every industry is different since the raw materials as well as products are different. Even the operating system is totally different. Hence industrial visits need to be arranged only in industries which are related to the courses being pursued by the students.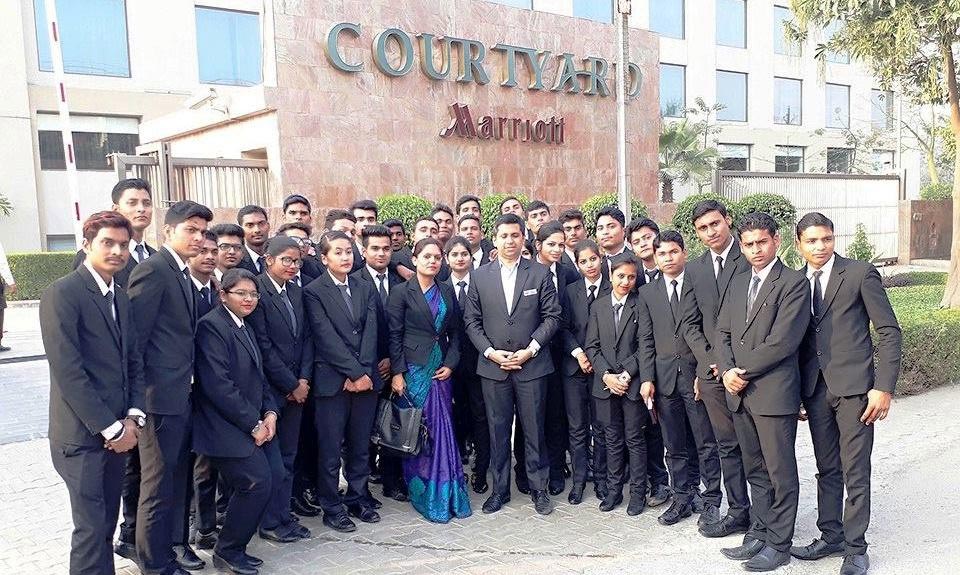 While pursuing a technical course, the students attend practical classes where experiments are conducted with equipments generally much smaller in size compared to actual equiopments in the industry. However, generally the practical classes are not conducted as a composite operation of different machines / equipments in tandem. So, a visit to the industry with equipments / machines of actual operating sizes facilitates understanding the actual operating process and correlating such operations with theoretical concepts taught in classrooms.
Industrial environment in terms of pollution, system of storage, usage of raw materials, disposal of effluents and other factors can be practically observed during industrial visits. It is said that 'seeing is believing' and such industrial visits contribute towards the confidence building exercise of the students and help them in ensuring clarity of concepts.
At Sanskriti University, educational trip / industrial visit is an integral part of the academic calendar of every institution. Students are periodically sent on industrial visits under the guidance of faculty members of concerned departments. The accompanying faculty members brief the students about the profile of the industry and the purpose of the visit in terms of learning about specific functional activities. While in the campus of an industrial set up, students are taken on a guided tour by an executive of the company who explains different activities of the organization and the operating process. On completion of visit, each student is required to submit a report which is given due weightage in internal assessment process.
| | |
| --- | --- |
| Sr.No. | Educational Trips |
| 1 | Exhibition Visit Students of Polytechnic had visited ACREX17 Asia Largest Heating and Refrigeration |
| 2 | Sanskriti University Students visited Indian Agricultural Research Institute New Delhi |
| 3 | Industrial Visit by Students of B.Tech (Mechanical Engineering) |
| 4 | Kirshi kendra Mathura visited by Agriculture Students |
| 5 | Industry Visit at Hotel Courtyard by Marriott, Agra |
| 6 | Industrial Visit of Diploma student's Sofcon India Pvt. Ltd. Noida |
| 7 | Industrial Visit School of Management & Commerce Students Cream Bell Ltd. |
| 8 | Industrial visit Polytechnic (Mechanical) Students 2nd & 3rd Year Sofcon India pvt. Ltd. Noida |
| 9 | Industrial Visit Parle Biscuits Pvt. Ltd. Neemrana (Rajasthan) |
| 10 | Three Industries Visited by Students (ME) of Sanskriti University @ Shree Prithvi Steel Rolling Mills (P) Ltd., AKS Bearings Ltd. & Bajrang Wire Products ( India) Pvt. Ltd., Jaipur, Rajasthan |
| 11 | Students of Sanskriti University visited Krishi Unnati Mela 2017 at Pt. Deen Dayal Dham, Mathura |
| 12 | IndustrialVisit by Students of Sanskriti University at Cream Bell |
| 13 | Industrial Visit by Students of MBA 2nd Year & BBA 2nd Year at MSME, Agra |