Sanskriti University -
Best in class among emerging Private Universities in India
Sanskriti University, set up in a serene environment with state of the art infrastructure, is delivering 360 degree holistic development of students. Sanskriti's intellectual capital comprises highly qualified and experienced faculty drawn from Industry as well as from Academia. Curriculum tailored to the needs of the industry, coupled with use of industry leading pedagogies enables the students to transform themselves into job ready resources. Sanskriti is committed to elevate itself to the status of top 10 private universities on all key parameters by delivering exceptional skill-based education by making incremental progress at quick pace.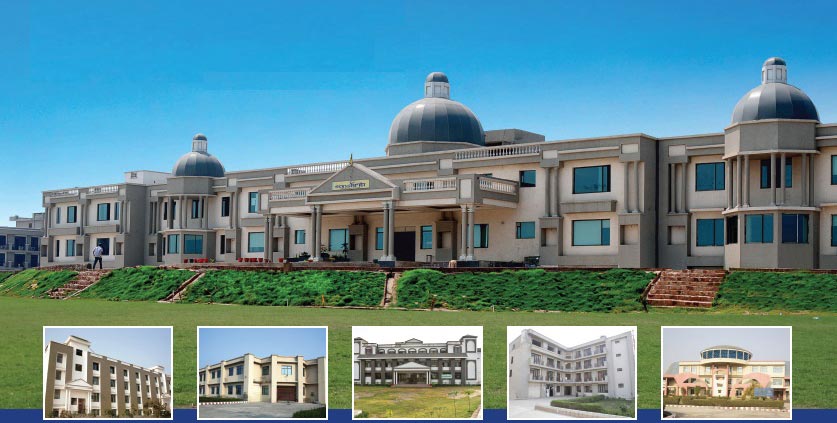 The vision of the founding fathers of Sanskriti University, a group of eminent philanthropists, was instrumental in its phenomenal growth ever since it was established in the year 2016. Since its inception, it has been robustly growing in terms of quality of students and education imparted to them. The Chancellor and the Pro-Chancellor are well-educated and enterprising young persons and their team has been working tirelessly to catapult Sanskriti in the list of top private universities in India. Their efforts have enabled them to establish this university after duly getting it notified under U.P. State Act. In its vision statement, the university has outlined the plan of ensuring continuous growth in different fields of education with the ultimate aim of being recognized as one of the best private universities of India.
Spread over an expansive area of more than 40 acres on NH-2 Chhata, Mathura, Sanskriti University is just 57 km from Delhi NCR. The state-of-the-art infrastructure and architectural excellence helps the University make a strong impression. The University has been established with an idea of bringing "Excellence in Life" of the students. Amidst the plethora of universities in Uttar Pradesh, Sanskriti University has made a mark of its own.
Students can choose from a wide variety of programmes, whether it is Management, Commerce, Science, Indian Medicine, Para-medical, Agriculture or Arts, students have the luxury and freedom of choice. Gone are the days when students used to choose just the mainstream fields to pursue their higher studies. Today they want to explore new horizons which is exactly what we encourage at Sanskriti University. Apart from knowledge in the classroom, students get additional learning through dedicated and well equipped laboratories, industrial visits and co-curricular activities etc. The focus is on igniting the young minds so that they innovate and focus on research based projects. Students can also take advantage of the library that has a wide selection of textbooks, journals and reference books.
At Sanskriti University, we are very strict about selection of faculty members, thus ensuring that only the best teachers who are highly qualified, passionate and dedicated are hired. The faculty members bring with thems a perfect amalgamation of competence, experience, and expertise to make sure that students get to the pinnacle of success. Admission of students is done on merit basis. Admission tests are conducted and students are enrolled in various programmes based on their merit and performance in these tests. Sanskriti aims to generate an environment that fosters technology incubation and leads to effective R&D.
Sanskriti believes in value based education which helps students become a better human being and do something constructive for the society. At Sanskriti University, we are committed to the cause of delivering world class education.