Technologically Ahead
In the higher education sector in India, there has been an increase in the number of universities - both government and private. The facilities available due to internet, facebook and other social media sources available provide updated information to one and all.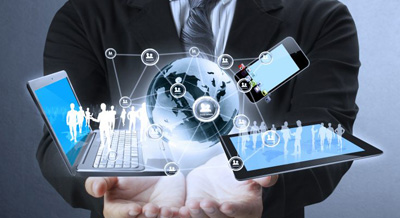 In this era of stiff competition when every university is trying to utilize technology as much as possible for showcasing themselves as premier educational institutions, each university is taking the help of technology to enhance the quality of education through extended accessibility to books, journals, lectures delivered by eminent professors - both national and international etc.
Sanskriti believes in maximizing use of technology in the field of education for enhancement of quality and providing exposure to the students to different forms of technology in the field of education for enhancement of knowledge.
Following are the major steps taken by Sanskriti for use of technology :
Projection of NPTEL lectures which has been included in the regular time-table for classroom teaching.
Setting-up of virtual labs - Helps the students to visualize operation of industrial size equipments / machines (that may not be possible to install in educational establishments).
Use of teaching aids like OHPs, LCD projectors, CAD / CAM softwares etc.
Use of intelligent boards for documenting the writings on the boards by faculty members while delivering classroom lectures etc.
The students are impressed by and focus on the teaching process using such technology that increases their absorption capacities and assists in comprehension. Further, many softwares are being used by all branches of engineering for solving real world / practical problems.
The IT department of Sanskriti is constantly updating itself with the idea of introduction of new technology in different fields of learning. The objective is to have a cutting edge over the educational system being practised and followed in the competitive institutions / universities. The process helps the students passing out from Sanskriti to be more 'employable' (compared to the students passing out from competing universities / institutions) in the corporate sector.