Events
Sachin Gupta received "World Book Records Award"
- Dr. Diwakar Sukul - Chairman of World Book of Records London conferred the Award
- Dr. H C Ganeshia –Chairman of Bharat Gaurav Samman Samiti was the Chief Guest
- Chancellor of Sanskriti University honored for the excellent performance of Sanskriti University
- Sanskriti University is the only center in the Agra Region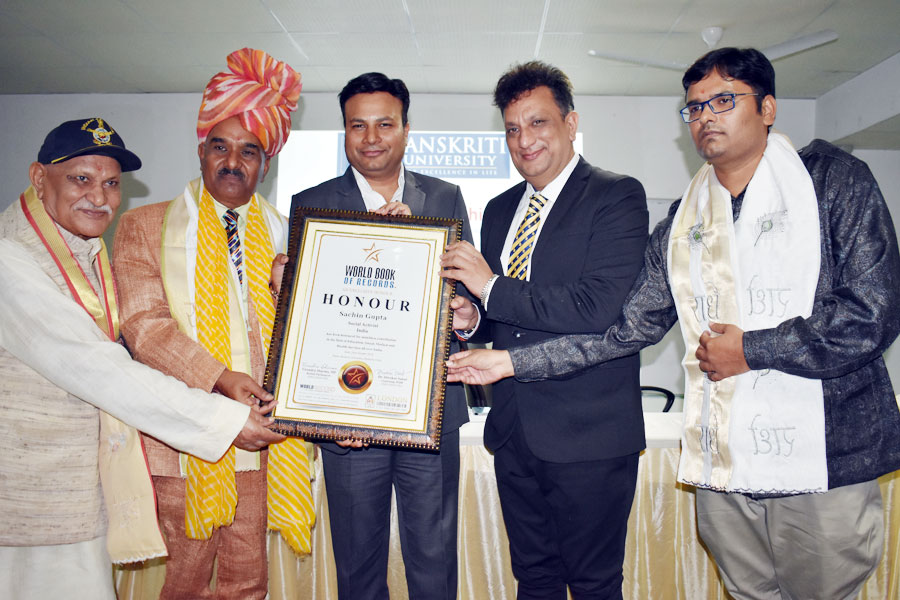 Mathura. Sachin Gupta Chancellor of Sanskriti University received the World Book of Records Award for contributing outstanding performance as social activist, and his services in the domain of education and medical health in India. He was conferred with this award ceremoniously in the Seminar Hall of Sanskriti University.
These awards are given to outstanding performers who have established themselves in their professional domain. Dr. Diwakar Sukul, chairman of the World Book of Records, London and Dr. H. C. Ganeshia, Chairman of Bharat Gaurav Samman Samiti, honored the Chancellor in the light of the rising fame and reputation of the University in the grand gala ceremony organized in the Seminar Hall of the University.
Speaking on this occasion, Dr. Sukul said that his organization has been scouting for individuals and organizations making records, listing them, inspiring others to break the records of others, and has also been doing various other associated welfare activities. He has been engaged in the process of finding the people and organizations delivering exceptional performance and lists them in his world book of records. The Golden Temple of Amritsar in India, Uddhav Thakre, Sikkim's Chief Minister Pawan Kumar Chamling have been listed on this record as the Chief Minister for 27 years. Many other people have also received this honor. In the Braj Area, Sachin Gupta Chancellor of Sanskriti University, is doing excellent work in the field of education, medicine, health etc. in the domain of social service. By honoring him, he and his board are delighted. He said that we have become famous as the Guinness Book of Records.
Dr. Ganeshia, Chief Guest, Chairman and Chairman of the Bharat Gaurav Samman Samiti, said that exceptional people who make name in the world are entitled to receive this honor. The World Book Records team has been working for years to promote progressive people by honoring such individuals.
The Chancellor extended thanks to all the guests and stated humbly that he was only in the field of service. Creating a skilled, well-equipped young team for the country is his goal in life so as to create nation where there is no shortage of working professionals in every field. He once again resolved to continue to do the work for the Divyang children and said that he will be persistently striving to fulfill his ambition to serve the mankind.
Prior to the award ceremony, the program was inaugurated by the guests and dignitaries by lamp lighting ceremony. The profile of Chief Guest Dr. H C Ganeshia was shared to the audience by Vice Chancellor Dr. Rana Singh and Dr. Diwakar Sukul was introduced by Pro Vice Chancellor Dr. Abhay Kumar.
OSD Meenakshi Sharma, Executive Director Dr. PC Chhabra and all the Faculty Members were present on this momentous occasion.
सचिन गुप्ता को वर्ल्ड बुक रिकॉर्ड्स एवार्ड
- वर्ल्ड बुक ऑफ रिकार्ड लंदन के चेयरमैन डा. दीवाकर सुकुल ने किया प्रदान
- भारत गौरव सम्मान समिति के चेयरमैन डा. एचसी गनेशिया बने कार्यक्रम के मुख्य अतिथि
- संस्कृति विश्वविद्यालय के उत्कृष्ट प्रदर्शन के लिए सम्मानित किए गए कुलाधिपति
- आगरा मण्डल का संस्कृति विश्वविद्यालय एक मात्र केन्द्र
मथुरा। संस्कृति विश्वविद्यालय के कुलाधिपति सचिन गुप्ता को भारत में सोस्यल एक्टिविस्ट, शिक्षा एवं मेडिकल हैल्थ के क्षेत्र में श्रेष्ठ कार्य करने के लिए वर्ल्ड बुक ऑफ रिकॉर्ड्स सम्मान मिला है। उन्हें यह सम्मान विश्वविद्यालय सभागार में समारोह पूर्वक प्रदान किया गया।
विश्व स्तर पर खुद को स्थापित करने वाले होनहार कामकाजी लोगों को यह सम्मान प्रदान किया जाता है। विवि सभागार में आयोजित सम्मान समारोह में वर्ल्ड बुक ऑफ रिकॉर्ड्स लंदन के चेयरमैन डा. दीवाकर सुकुल एवं भारत गौरव एवॉर्ड्स कमेटी के चेयरमैन डा. एचसी गनेशिया ने विवि की उत्रोत्तर बढ़ती ख्याति एवं प्रतिष्ठा के चलते संस्थान में कुलपधिपति को सम्मानित दिया।
इस अवसर पर डा. सुकुल ने कहा कि विश्व में किसी भी क्षेत्र में श्रेष्ठ रिकॉर्ड बनाने वाले लोगां को खोजना, उन्हें सूचीवद्ध करना, अन्य लोगों को पुराने रिकॉर्ड तोड़ने के लिए प्रेरित करना, उनके कल्याण के लिए काम करने जैसे अनेक कार्य संस्थान कर रहा है। किसी क्षेत्र विशेष में उत्कृष्ट कार्य करने वाले व्यक्ति व संस्था को भी वह सूचीवद्ध करने का कार्य करते हैं। भारत में स्वर्ण मंदिर, उद्धव ठाकरे, सिक्किम के मुख्यमंत्री पवन कुमार चेमिंलंग को 27 साल तक मुख्यमंत्री बने रहने पर इस रिकॉर्ड में सूचीवद्ध किया जा चुका है। अन्य अनेक लोगों को भी यह सम्मान मिला है। ब्रज भूमि में संस्कृति विश्वविद्यालय के कुलाधिपति सचिन गुप्ता समाज सेवा के शिक्षा, चिकित्सा, स्वास्थ्य आदि क्षेत्रों में श्रेष्ठ कार्य कर रहे हैं। उन्हें यह सम्मान देकर वह व उनका बोर्ड हर्षित है। उन्होंने कहा कि हम गिनीज बुक ऑफ रिकॉर्ड्स की तरह ख्यातिलब्ध हो चुके हैं।
भारत गौरव एवॉर्ड कमेटी के चेयरमैन एवं कार्यक्रम के मुख्य अतिथि डा. गनेशिया ने कहा देश-दुनियां में नाम कमाने वाले कामकाजी लोग इस सम्मान के हकदार होते हैं। इस तरह के लोगों को सम्मानित कर प्रगतिपथ बढ़ रहे लोगों को प्रोत्साहित करने का काम वर्ल्ड बुक रिकॉर्ड्स टीम सालों से करती आ रही है।
कुलाधिपति ने सम्मान ग्रहण कर अतिथियों का आभार जताया कि वह तो महज सेवा के क्षेत्र में हैं। देश के लिए कुशल, सुसंकृत युवा तैयार कर राष्ट्र निर्माण ही उनका ध्येय है ताकि हर क्षेत्र में श्रमजीवी लोगों की कमी न रहे। दिव्यांगों के लिए काम करने का संकल्प पूरे मनोयोग से साकार करना है। इसे वह पूरा करने के लिए सतत प्रयत्नशील रहेंगे।
इससे पूर्व कार्यक्रम का शुभारंभ अतिथियों द्वारा दीप प्रज्वलन के साथ हुआ। अतिथि स्वागतोपरांत कुलपति डा. राणा सिंह एवं उप कुलपति डा. अभय कुमार द्वारा क्रमशः अतिथियों का परिचय प्रस्तुत किया गया।
इस अवसर पर ओएसडी मीनाक्षी शर्मा, कार्यकारी निदेशक डा. पीसी छाबड़ा एवं सभी फेकल्टी मेम्बर्स मौजूद रहे।