Events
Braj has high potential for Tourism and Religious Tourism
Sanskriti University organized various programmes on World Tourism Day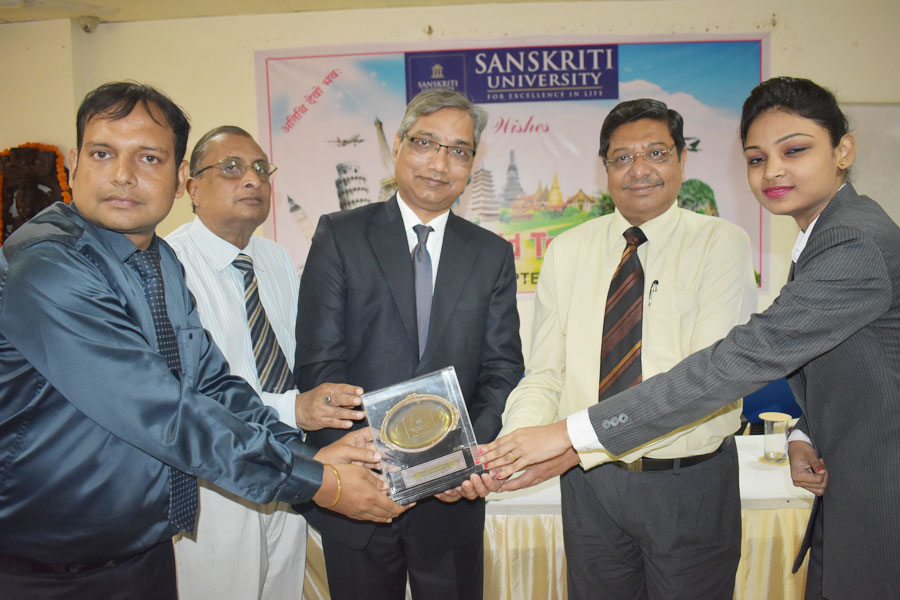 Mathura. The opportunities in tourism sector are increasing at an exponential rate in the Braj Region. "The diversity of the region including heritage sites, wild life, religious locations, various types of foods and dishes are special dimensions which can give a catalytic boost to the travel and tourism Industry in the region.It is imperative to customize the facilities according to the requirements and expectations of the tourists." These thoughts were shared by Mr. Ratnesh Sahay, General Manager of Nidhivan Sarovar which is part of international chain of hotels.
He also said that success cannot be achieved with half-hearted attempts. Entrepreneurial approach, attitude, behavior and temperament are important aspects which can make a small business big. He motivated the students by giving various examples of successful entrepreneurs from Mumbai and nearby region who achieved commendable success after making small and humble beginning. He inspired the students by sharing the story of the Dabba Walas and Namkeen Shop of Neela Mehta and many other enterprising entrepreneurs.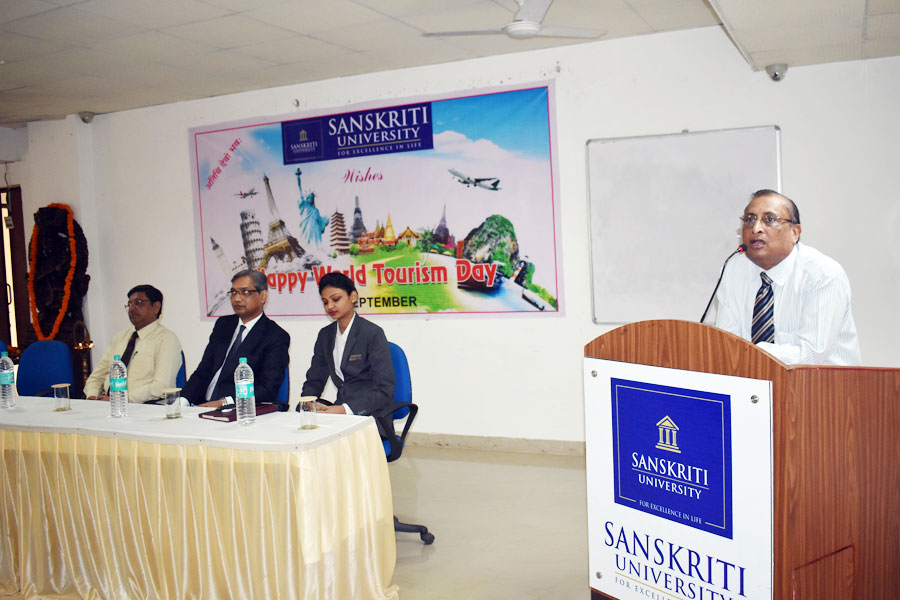 Pro-Vice Chancellor Dr. Abhay Kumar shared his views on this occasion and said that the tourism in India is increasing and so is the rate of growth in internal tourism in the country. The youngsters of the Braj region can work in the domain of travel and tourism to bring laurels to themselves as an individual, their family and also to the entire Braj Region. This can also become a source of earning money which can later become a source of livelihood for the youngsters of the region.
Dean Dr. Kalyan Kumar said that Travel and Tourism is a sector with immense opportunities. We have excellent environmental and climatic conditions in this region to leverage the opportunities. The region is full of diversities of varied nature and hence offers multiple opportunities in the travel and tourism sector.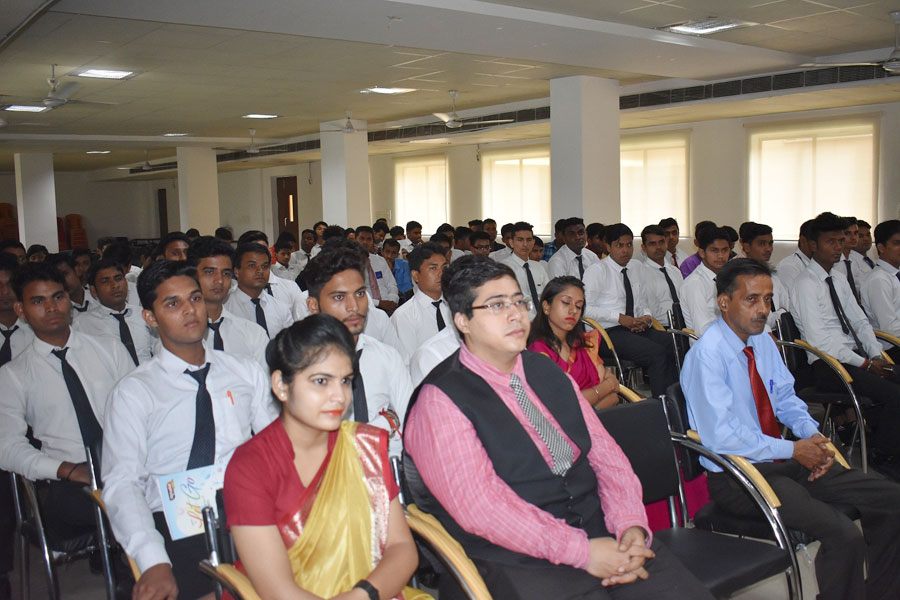 He said that professionals should come together with a positive bent of mind and shall implement their plans to achieve the envisioned goals and objectives. The Guest was felicitated by the University Officials by a Special Memento in recognition of the contributions made by them. Mr. Piyush Jha extended vote of thanks at the end of the event. Madam Neha from Sarovar Group was also felicitated by the University officials.
ब्रज में पर्यटन-तीर्थाटन की अपार संभावनाएं
संस्कृति विश्वविद्यालय में विश्व पर्यटन दिवस पर हुए कार्यक्रम
मथुरा। ब्रज में पर्यटन की संभावनाएं लगातार बढ़ रही हैं। यहां हैरीटेज, वाइल्ड लॉइफ, धर्मिक स्थल, पुरातात्विक संग्रहालय, संस्कृति, भोजन की विविधता जैसे अनेक आयाम हैं जो पर्यटन उद्योग को चार चांद लगा सकते हैं। जरूरत इसे पर्यटकों के अनुरूप और बेहतर बनाने की है। ये विचार विश्व पर्यटन दिवस पर संस्कृति विश्वविद्यालय में आयोजित कार्यक्रम में विश्वव्यापी चेन वाले वृन्दावन स्थित निधिवन सरोवर के जनरल मैनेजर रत्नेश सहाय ने व्यक्त किए।
उन्होंने कहा कि आधे अधूरे मन से किए गए किसी भी कार्य में सफलता नहीं मिलती। उद्यम, आचरण, मधुर व्यहार जैसी खूबियों वाले लोग छोटे से कार्य को लेकर ही बहुत आगे तक जाते हैं। उन्होंने मुम्बई सहित कई क्षेत्रों में फर्श से अर्श पर पहुंचे लोगों के उदाहरण देकर युवाओं को प्रेरित किया। डब्बे वाले से लेकर नीला मेहता के नमकीन शॉप से जुड़ी कहानी प्रारंभ से अंत तक सुनाकर सभी को प्रेरित किया।
उप कुलपति डॉ अभय कुमार ने कहा कि देश में पर्यटन के अलावा इंटरनल तीर्थाटन भी बड़ी तादात में होता है । स्थानीय स्तर पर युवा इस दिशा में काम करके ब्रज के गौरव को जन-जन तक पहुॅचाने के साथ धनार्जन भी कर सकते हैं।
डीन डॉ कल्याण ने कहा कि पर्यटन की दिशा में भारत अनेक अनुकूल संभावनाओं वाला क्षेत्र है। यहां हर तरह की पर्यावरणीय परिस्थिति हर समय पर मौजूद हैं। इसके अलावा हर क्षेत्र में मौजूद विविधताओं का अम्बार यहां मौजूद है। इस दिशा में सकारात्मक सोच के साथ योजनाओं को अमली जामा पहनाने की दिशा में काम करना चाहिए। टूरिज्म एण्ड डिजिटल ट्रान्सफॉर्मशन के तहत आयोजित इस कार्यक्रम में मुख्य अतिथि मि. सहाय को स्मृति चिन्ह भी भेंट किया गया। धन्यवाद ज्ञापन विभागाध्यक्ष पीयूष झा ने किया। होटल सरोवर गु्रप से आईं मैडम नेहा का भी सम्मान किया गया।