Events
Sanskriti University Celebrated Janmasthami with Differently Abled Students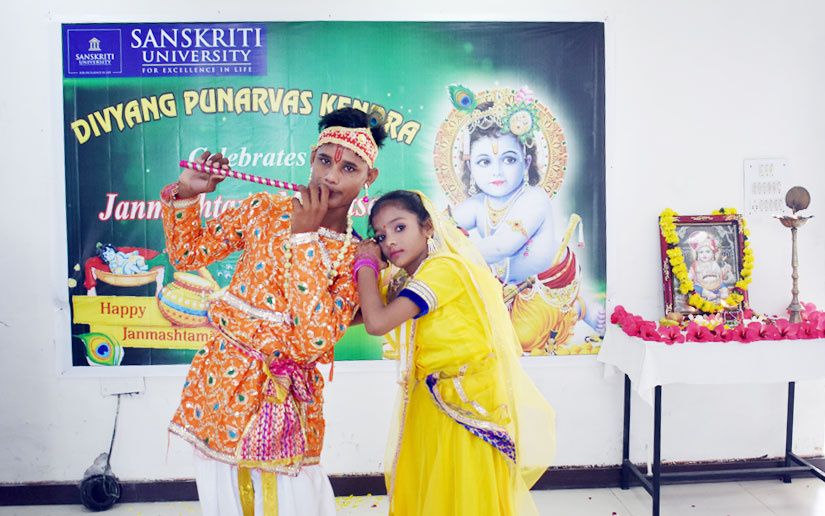 Mathura. The School of Rehabilitation of Sanskriti University organized a grand gala cultural program in the university campus on the auspicious occasion of eve of Janmashtami. The differently abled students of School of Rehabilitation organized dance program on the diverse Indian traditional music. The boys and girls of the School of Rehabilitation prepared the special bouquet with the flowers grown within the university campus.
The students thereafter organized a group dance in the lush green park of the campus on the music and songs pertaining to Lord Krishna to celebrate the eve of his birth anniversary. The students then came together and participated in the Handi Breaking Competition. The group of 15 students won the Handi-Breaking competition in the second attempt. The program was a culmination of imparting knowledge, skills and competencies pertaining to rich and varied Indian cultural heritage, team-spirit, creativity, initiative, leadership, planning, implementation and control.
Sachin Gupta, Chancellor of Sanskriti University shared his views on this occasion and said that participation of the students in the extra-curricular activities of the University shall play an important role in holistic development of the students and it will go a long way in transforming the personality of the students.
Meenakshi Sharma, OSD to the Chancellor expressed her pleasure at the superb performance of the students and she congratulated the teachers and staff of the School of Rehabilitation for organizing series of marvelous events on the auspicious occasion of Janmashtami.
P C Chhabra, Executive Director of the University extended special thanks to all the participants and appreciated the culture and tradition of celebrating the religious festivals with a focus on developing the skills and competencies of the students.
Dr. Abhay Kumar, Pro-Vice Chancellor of the University said that the birth of Lord Krishna is a milestone event in the history of mankind depicting the win of good over evil. This festival is meant to spread the spirit of love, affection and joy.
Dr. Rana Singh, Vice-Chancellor of the University said that the auspicious occasion of Janmashtmi is an opportunity for one and all to spread the learnings, teachings and preachings of Lord Krishna. This festival shall be leveraged to kindle the spirit of love and camaraderie across different sections of the society without any discrimination.