Events
Netaji Subhash's picture exhibition organized at Sanskriti University
- A demonstration of nearly 75 rare paintings based on life philosophy of Netaji Subhash Chandra Bose
- The pictures brought from Kolkata will also be exhibited today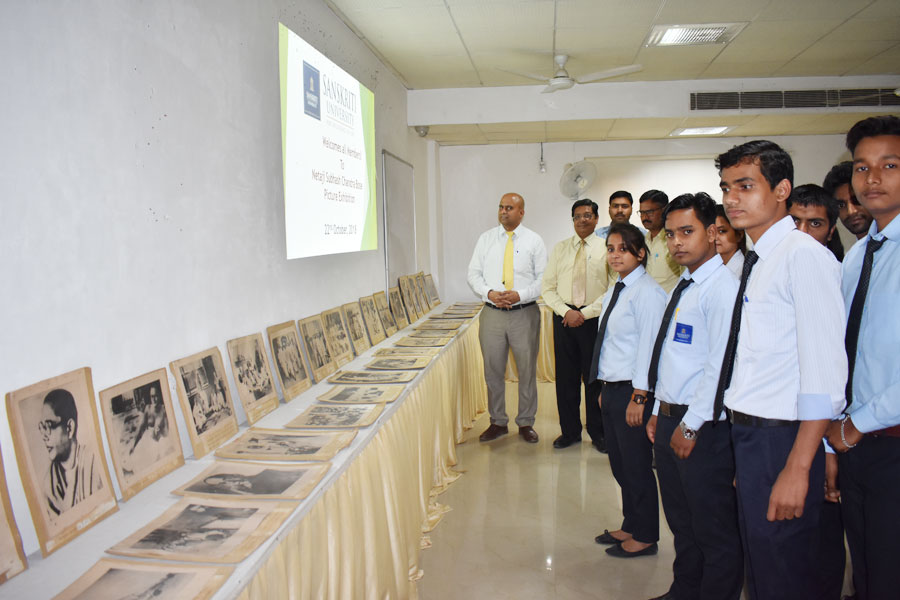 Mathura. Picture exhibition based on the life philosophy of Netaji Subhash Chandra Bose was organized at Sanskriti University. The exhibition containing over 75 photographs of Netaji containing pictures from the early childhood of Netaji till the establishment of Ajad Hind Fauj and subsequent times was a center of attraction for all the visitors. Students were delighted to get a first-hand view of over 65 years old images of female soldier child soldiers of old times.
Chancellor Sachin Gupta said on this occasion that Netaji was exceptionally talented. He passed the ICS (equivalent of current IAS) examinations abroad but did not accept the British job. He was the first Indian to pass this examination. Despite having no ideological match with Gandhiji, he created a very good army on foreign soil in his own way and made a mental pressure on the British sideto leave India.
Pro Chancellor Rajesh Gupta said that one does not get to see such a picture exhibition. Within a few seconds, a person gets a glimpse of the whole life of a person. OSD Meenakshi Sharma requested all the stduents to observe the exhibition on Tuesday so that they could know the details of the life of Netaji.
While inaugurating the exhibition, Vice-Chancellor Dr. Rana Singh said that Netaji used the power of children army against the British besides the recruitment of women in the army. Vice-Chancellor Dr Abhay Kumar said that when Netaji used to meet Hitler, he would salute him in honor in reciprocation. In the arrangements of the exhibition, administrative officer Avnish Singh made the necessary arrangements. The exhibition remained available to the students in the university for about a week.
नेताजी सुभाष चंद्र बोस के जीवन दर्शन पर आधारित चित्र प्रदर्शनी का अवलोकन करते कुलपति डा. राणा सिंह, उप कुलपति डा. अभय कुमार व बच्चे।
संस्कृति विश्वविद्यालय में लगी नेताजी सुभाष की चित्र प्रदर्शनी
- जीवन दर्शन पर आधारित करीब 75 दुर्लभ चित्रों का किया गया प्रदर्शन
- कोलकाता से मंगाई चित्र प्रदर्शनी आज भी प्रदर्शन के लिए लगी रहेगी
मथुरा। संस्कृति विश्वविद्यालय में नेताजी सुभाष चंद्र बोस के जीवन दर्शन पर आधारित चित्र प्रदर्शनी लगाई गई। करीब 75 चित्रों वाली प्रदर्शनी में उनके बचपन से लेकर आजाद हिन्द फौज की स्थापना और उसके बाद तक के सभी चित्र आकर्षण का केन्द्र रहे। महिला सैनिक टुकड़ी और बाल टुकड़ियों के 65 वर्ष पुराने चित्रों को देख छात्र आनंदित हो उठे।
कुलाधिपति सचिन गुप्ता ने इस अवसर पर कहा कि नेताजी विलक्षण प्रतिभा के धनी थे। उन्होंने विदेश में होने वाली आईसीएस(वर्तमान की आईएएस) के समकक्ष परीक्षा पास की लेकिन अंग्रेजों की नौकरी नहीं स्वीकार की। वह इस परीक्षा को पास करने वाले पहले भारतीय थे। गांधी जी से वैचारिक मेल न होने के बाद भी उन्होंने अपने तरीके से विदेशी धरती पर अच्छी खासी फौज खड़ी कर अंग्रेजों पर भारत छोड़ने के लिए मानसिक दबाव बनाया।
उप कुलाधिपति राजेश गुप्ता ने कहा कि इस तरह की चित्र प्रदर्शनी आसानी से देखने को नहीं मिलती। चित्रों के माध्यम से चंद पल में किसी भी व्यक्ति के पूरे जीवन का दर्शन हो जाता है। ओएसडी मीनाक्षी शर्मा ने सभी बच्चों से मंगलवार को प्रदर्शनी का अवलोकन करने को कहा ताकि वह नेताजी के विषय में विस्तार ने जान सकें।
कुलपति डा. राणा सिंह ने प्रदर्शनी को लोकार्पित करते हुए कहा कि नेताजी ने सेना में महिलाओं की भर्ती के अलावा बाल टुकड़ी का प्रयोग अंग्रेजों के खिलाफ किया। उप कुलपति डा. अभय कुमार ने कहा कि नेताजी जब हिटलर से मिलने जाते थे तो वह भी सम्मान में उन्हें सेल्यूट मारते थे। प्रदर्शनी की व्यवस्थाओं में प्रशासनिक अधिकारी अवनीश सिंह का सहयोग रहा। प्रदर्शनी का अवलोकन मंगलवार को भी विवि सभागार में बच्चे कर सकेंगे।