Events
Inauguration Of "Pakshi Mitr" Club In Sanskriti University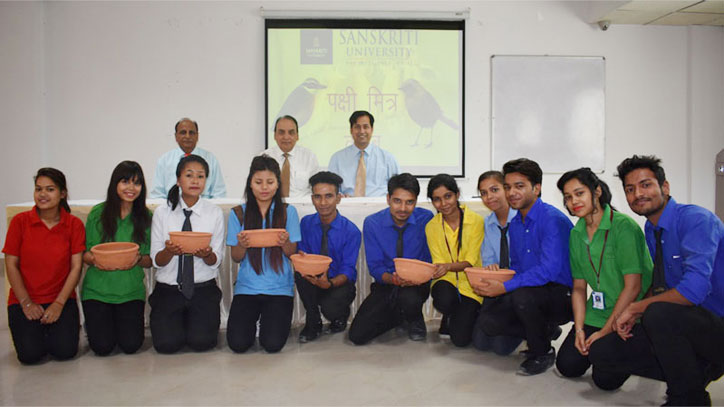 There was a time when our earth was full of greenery and was vibrating with the sounds of birds. Slowly due to man-made activities, depletion of the environment started and gradually many species of birds are getting instinct.
Taking the clue from this, "Pakshi mitr" (Friends of birds) club was formed under the guidance of Dr. Subodh Dubey, Director (Holistic Development). Students took the oath to work for the environment, especially birds.
Students have accepted this initiative as an opportunity to become friends of birds and do everything possible for their safety, security and protection.
Dr. D.K. Singh (Dean) and Dr. Sanjeev Kumar Singh (Associate Dean) were present at the Foundation ceremony of the club. They praised the initiative and motivated the students to continue to work for this noble cause with zeal and fervor.
Chancellor, Mr Sachin Gupta and Pro-chancellor, Mr. Rajesh Gupta congratulated the students and advised them to work whole heartedly, not only for the protection of birds but nature at large. They praise the students who took the initiative. Mr. Sachin Gupta motivated them to come out with similar initiatives whereby the students will have holistic development.