Events
65 Students Selected As Trainee Engineers at Krishna Maruti Group through Campus Placement Drive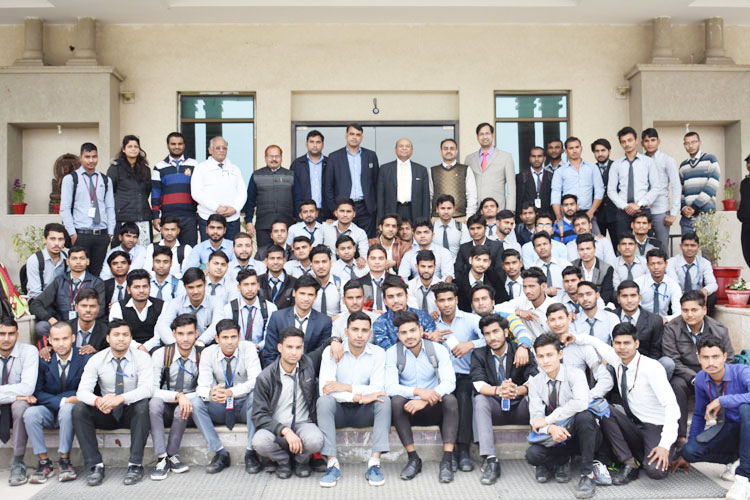 Campus placement drives are regular features of continuous placement activities at Sanskriti University (SU). SU appreciates the fact that placement constitutes an important factor (a) for admission of students in a developing country like India and (b) for enhancement of brand image of the university.
As a part of this endeavor, a placement drive was conducted by Krishna Maruti Group at Sanskriti University on 8th Feb., 2018.
At the outset, the representatives of Krishna Maruti Group, Mr. Vijay Yadav, Corporate Head and Mr. Vinod Kumar, HR Manager, made a presentation about the company's activities. In course of presentation, they apprised the students about their line of product, hierarchy of the organisation, job profile etc.
Interview process comprised written test, group discussions and personal interviews. On completion of series of rounds of interview, 65 students were finally selected and handed over offer letters for joining the organization. The selected candidates were from Mechanical Engineering, Automobile Engineering & Electrical Engineering streams .They will be placed in the factories at Gurgaon and Ahmadabad.
The selected students are pleased to receive job offers prior to completion of their courses and excited about taking up the assignments at the earliest.
Mr. Sachin Gupta , Chancellor, Sanskriti University , congratulated the students on their selection .He advised them to make full utilization of opportunities provided and focus their attention on learning about the activities related to operation, maintenance etc. of the equipments they will be required to operate.
Mr. Rajesh Gupta, Pro Chancellor, Sanskriti University, was glad to learn that the engineering students have been placed in a very reputed organization. He advised the students to be sincere, disciplined and hone their skills so that they can prove to be assets for the organizations they will be serving during their professional career.
Prof. P.C Chabra Executive Director, Sanskriti University, congratulated the students on their selection & advised them to consistently perform at high level of efficiency.
Prof.(Dr. )D. Pathak, Vice Chancellor,Sanskriti University, congratulated the students and assured them that his blessings will be always there with them.