Events
SPORTS FIESTA - 2018
In appreciation of the multi faceted benefits of sports for students pursuing higher education, Sanskriti University (SU) has given it the right prominence in its academic calendar and ear marked 18th January to 20th January, 2018 for Annual Sports - Sports Fiesta, 2018. Many out-door and in-door games including athletics were conducted during this sports fiesta.
The programme started off on 18th January, 2018 with inaugural ceremony when Hon'ble Vice Chancellor of the university declared the annual sports open. He urged the students to actively participate in sports with the main objective of getting involved in games. He also said that emphasis should also be laid on endeavour on the part of the students to be better than every other competitor.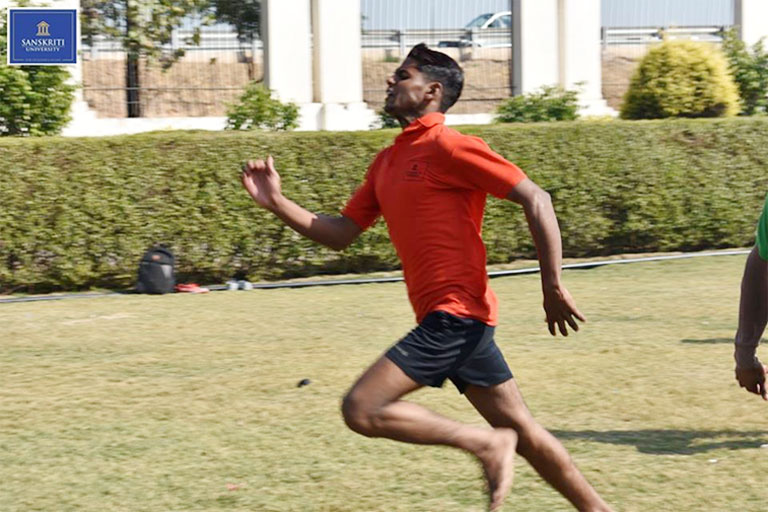 As we all know, contribution of sports towards mental and physical development of young men and women is very significant. While outdoor games help in maintenance and development of physical health, indoor games facilitate formulation of right strategy for winning a game. It (sports) also helps in developing a competitive mind set and improving group dynamics. This mind set helps the students in their active professional career to strategize implementation of works/ activities successfully in a business environment.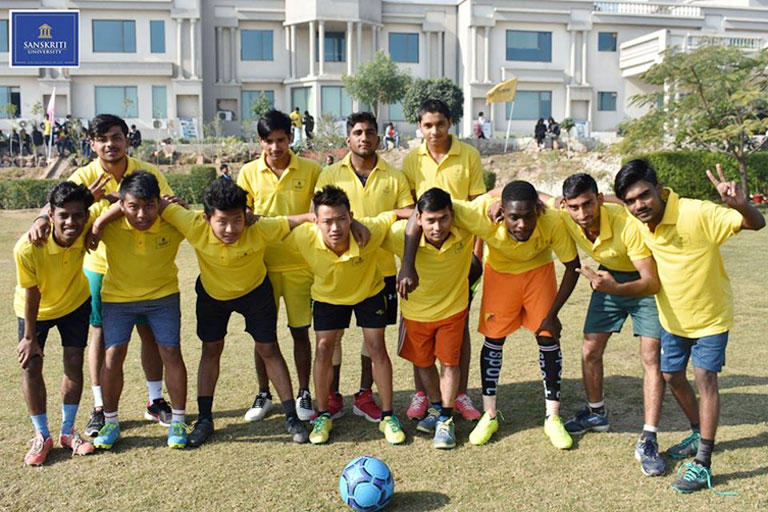 The standard of performance in Sports Fiesta, 2018 was reasonably high and some of the students deserve to be reckoned as the potential candidates for higher achievements at the state and national level. Every sports person requires encouragement and the spectators are the real source of encouragement. Encouragement from the students, faculty members and staff gathered in large number at the play grounds got the students charged up for performing at their best.
In his speech delivered at the concluding session of the Sports Fiesta 2018, the Hon'ble Chancellor of Sanskriti University, Mr. Sachin Gupta, said that he was glad to find a large no. of students showing keen interest in participation in the games. He mentioned that the most important thing is taking part and not necessarily winning prizes. He also focused on fostering team spirits through sports that will help the process of career growth and development. He congratulated the winners and assured the students that the high achievers will be provided necessary support for taking part in competitions at higher levels.
Prf. P.C Chhabra, Executive Director, SU, congratulated the winners and expressed his pleasure in finding large scale participation by the students many of whom could attain high standards in different games.
Dr.Devendra Pathak, Vice Chancellor, SU, congratulated the winners and thanked the organizers of Sports Fiesta, 2018. He expressed his hope that there will be increasing interest in such events in the years to come.
The curtain was drawn after the Hon'ble Chancellor distributed prizes to the winners & Vote of Thanks was proposed by Dean, Social Welfare.