Events
Sanskriti University celebrated Independence Day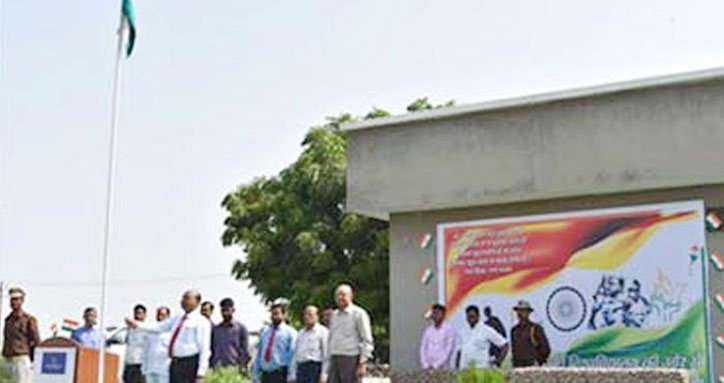 Independence Day was celebrated with great zeal and feeling of patriotism at Sanskriti university. The students presented several dance, songs, speeches, skits etc. on patriotic theme.
Vice-Chancellor, Sanskriti University, Dr. DevendraPathak, addressed the students and faculty members and spoke at length about Swachch Bharat Abhiyan and emphasized on making our nation free from corruption, terrorism, illiteracy, poverty etc. He also appealed to the gathering to take pledge to attain maximum literacy rate in India.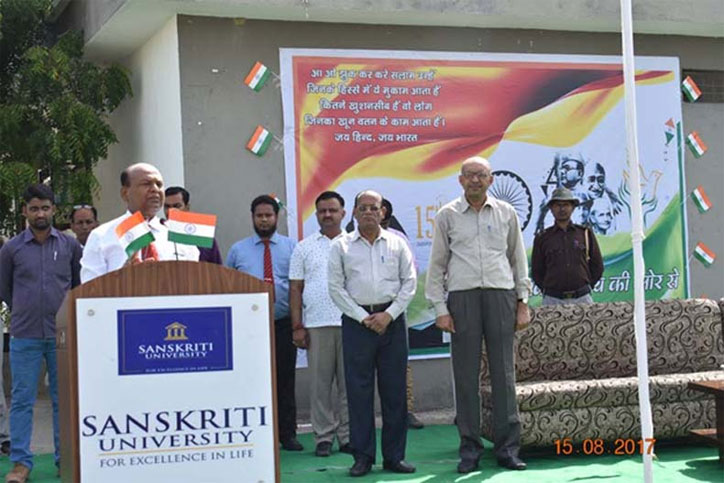 The programme started by hoisting the National Flag. Then, Dr. Pathak highlighted the achievements of Sanskriti University. He said that we are lucky to celebrate this day with such great passion and enthusiasm and we will always try to serve our society and nation by spreading awareness about education and benefits of educating people; which will help us to fulfill the pledge taken by all of us. Dr. Pathak expressed his happiness as Shree Krishna Janmashthami is also celebrated on the same day this year. Every Indian is celebrating Independence Day along with visiting temples on the occasion of Shree Krishna Janmashthami. He also remembered the sacrifice of our brave soldiers who laid down their lives to make India free and paid tribute to them.
Dean, Sanskriti University, Sh. Arvind Rajpurohit said that word 'independence' should not be misunderstood with having freedom to do anything. It actually means to sacrifice everything to serve our nation in every way possible to make it developed.
On this occasion, Training & Placement Head, Sh. Ram Karan Sharma ji said that for today's generation, independence is higher education, good job and luxurious life, which is actually not the case. The people living in rural areas are still unaware about the latest technological developments taking place round the world.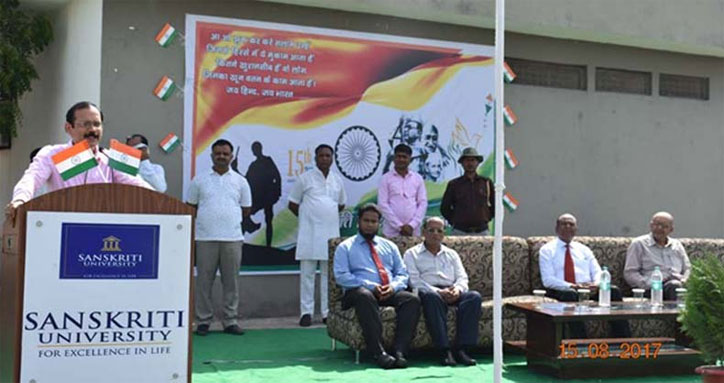 Registrar, Mr. PrabhakarTripathi, expressed his views that actual independence lies in making our India free from orthodox practices and rituals and celebrate independence by serving our nation. He encouraged the students to work hard and excel in life to make their parents, teachers and nation proud.
Finance Officer, Sh. AvadheshShukla, Mr. ArvindShukla, Mr. Jitemdra Sharma, Mr. FahimAkhtar etc. were also present along with the students on the occasion.