Events
Guest Lecture on Use of Technology in effective Management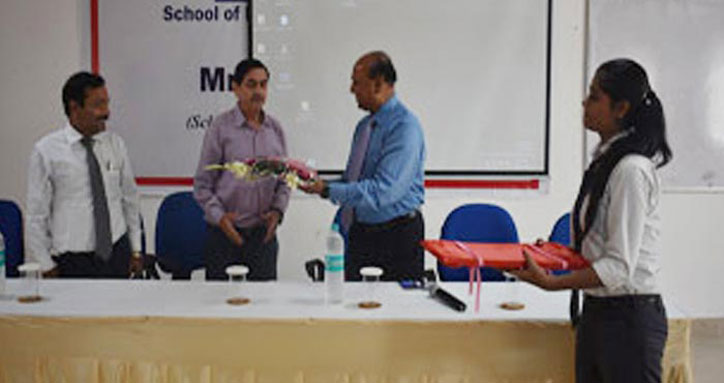 A guest lecture was organised by School of Management and Commerce, Sanskriti University on 30th August 2017 at University Seminar Hall. The eminent speaker Professor (Dr.) Satish Tuteja delivered a lecture on "Use of Technology in effective Management". Vice Chancellor, Professor (Dr.) Devendra Pathak welcomed him on dais and Professor Nirmal Kundu, Head - School of Management and Commerce introduced him to the audience. Twenty faculty members and one hundred twenty students attended the lecture.
Professor Tuteja studied in Sri Ram College of Commerce, Delhi School of Economics and Faculty of Management Studies, Delhi University. He has been teaching in Faculty of Management Studies, one of the best five B-schools in India for forty years. A great scholar and highly regarded by students, he has seven books and eighteen articles to his credit. His area of specialisation includes Taxation, Law, Organisation Behaviour, Corporate Governance, Security Analysis and Economic Growth.
Professor Tuteja in his inimitable style focused on the importance of technology in attaining growth, eliminating duplication and gathering extraordinary support strategies for competitive advantage. He explained with example how technology can be effectively utilised and also cautioned the misuse of technology. At the end there was an interactive session, where a large number of students participated in the discussion and their queries related to management of technology and software were aptly answered.
Vice Chancellor, Dr. Pathak summed up the discussion of the day that learning relevant technology is very important and at the same time stressed that unlearning obsolete technology should not go out of focus.
Mrs. Vishaka Devdas concluded the session with vote of thanks.