Events
"Most Promising Institution In India" Award Conferred on Sanskriti University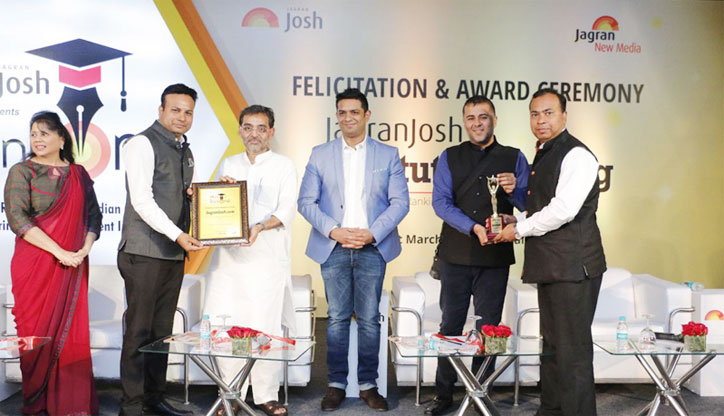 Jagran josh.com, one of the leading websites of India, organized a felicitation ceremony for the top Engineering and Management Institutes of India in New Delhi on 31st March, 2017.
Jagranjosh.com of the Jagran New Media (JNM) has a tie up with global research consultancy TNS to identify the best Engineering and Management Colleges in India. The objective of organizing such felicitation ceremony is to empower the student community by providing an objective and qualitative data regarding the educational standards in premier educational institutes spread across the country.
After going through a multi-stage survey process, which involved board-room research, interviews of present and past students, collection of data from accreditation bodies etc.; and as a matter of recognition of the efforts of the Sanskriti team, Sanskriti University has been recognized as "Most Promising Institution in India for Engineering & Management" by Jagranjosh.com.
Hon'ble Chancellor, Mr. Sachin Gupta and Pro-Chancellor, Mr. Rajesh Gupta received the award and Certificate of Excellence from the Chief Guest, Shri Upendra Kushwaha ji, the Union Minister of State for HRD (Higher Education) and the Guest of Honour, Shri Chetan Bhagat ji, one of the most prominent author, columnist and screenwriter of India.
Having realized the necessity of improving the quality of higher education, Sanskriti University is continuously working on the following areas :-
Designing of curriculum is contemporary and based on the needs of the industry leading to flexibility in curriculum development which will be updated time to time depending upon changing needs of business environment.
Holistic personality development has been introduced as a compulsory subject that will help in grooming the students for better placement.
For overall growth of the students, extra-curricular activities take place round the year. Exposure to such activities enhances the personality of the students directly and indirectly.
This award stands as a testimony to the commitment of Sanskriti University towards society in providing quality education in the field of higher, professional and technical education.
Mr. Sachin Gupta, Chancellor, congratulated the faculty members and staff members on the award being conferred on Sanskriti University. He advised them to keep up the good work.
Mr. Rajesh Gupta, Pro-Chancellor, thanked all the members of Sanskriti team for their efforts which has been recognized by Jagranjosh.
Prof. P.C. Chhabra, Executive Director, expressed pleasure for the recognition and encouraged his team to perform better in the coming years.