Events
National Conference Organized At Sanskriti University on 5-6 April, 2017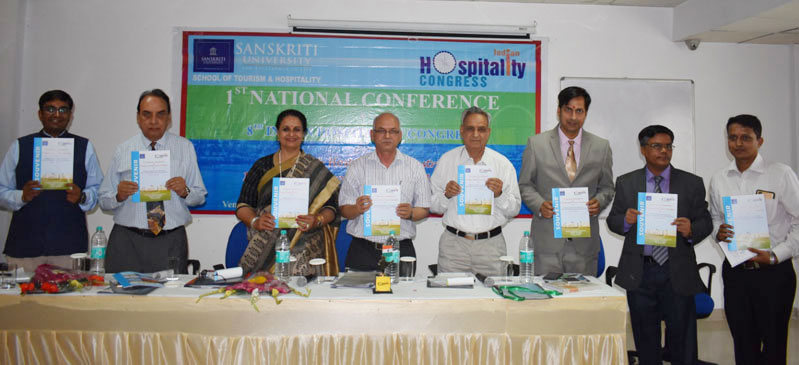 The School of Tourism & Hospitality, Sanskriti University organized a National Conference on "Tourism & Hospitality Industry in India : Contemporary Issues & Challenges" in association with Indian Hospitality Congress on 5th & 6th April, 2017.
This grand event was marked with the presence of several Key Resource Persons from various prestigious institutions of India. Some of them are Prof. S.C. Bagri (CMTHS, HNB Garhwal University), Prof. S. Inayat Ali Zaidi (Jamia Milia Islamia University), Prof. Ashish Dahiya, Director, ITHM, Maharshi Dayanand University, Rohtak, Prof. Soniya Malik, MD University, Rohtak, Dr. Dillip Das, Associate Professor, Burdwan University, West Bengal, Dr. Sonia Gupta, Founder Editor, International Journal of Hospitality & Tourism, Mr. Deepak Behl, Director, Human Resource, The Park Inn, New Delhi etc. A large number of delegates from all over India & abroad participated in this conference.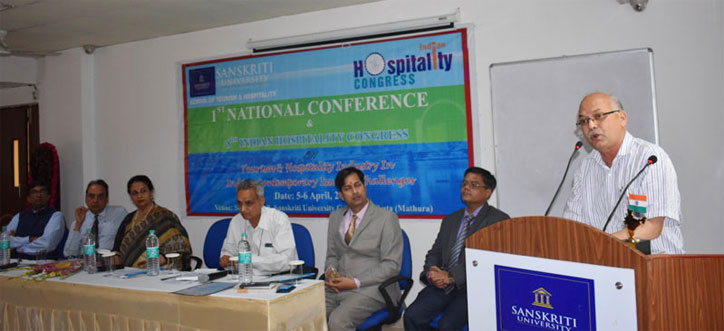 The Conference started with lighting of lamp followed by the release of Souvenir. The welcome address was delivered by Dr. Sanjeev Kumar Singh, Associate Dean, Sanskriti University. The inaugural address was delivered by Prof. Bagri followed by a keynote speech by Prof. Ashish Dahiya. The Guest of Honor, Prof S. Inayat Ali Zaidi also addressed the audience.
This event was scheduled in two separate sessions. In the first session, the IHC AWARD 2016 awards were distributed by Indian Hospitality Congress to recognize the excellence of various professionals & academicians of tourism & hospitality industry elected from various corners of the nation.
Besides the nominees from other parts of the nation, the awards were also conferred on the faculty members and students of Sanskriti University. Mr. Alok Prasad, Head, School of Tourism and Hospitality received IHC President Award & Ms. Namrata Singh, Assistant Professor was also elected for IHC Education Award in the field of Housekeeping. Mr. Lalit Pratap, a student of B.Sc. Hotel Management has been conferred with IHC Budding Hotelier Award.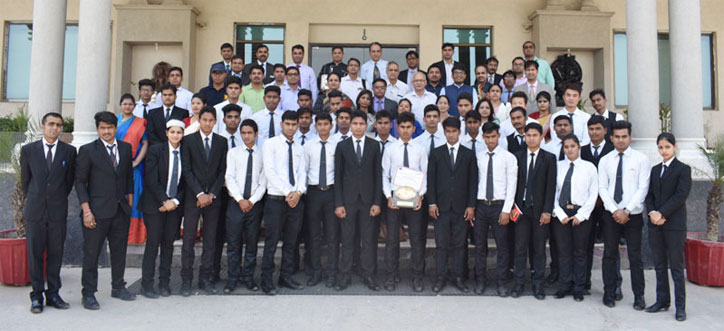 Post lunch session started with the presentation of research work conducted in the field of tourism & hospitality industry with the holistic aim to discover strategies to counter challenges faced by the industry by different researchers, academicians & industry experts of different parts of the country. This session was chaired by Prof. S. Inayat Ali Zaidi from Jamia Milia Islamia University, Delhi. Dr. Sonia Malik, addressed on the issue of Tourist Psychology. Dr. Dillip Das and Mr. Deepak Behl, addressed the session on required attitude to get success in the field of hospitality & tourism. The research scholars of various part of the nation covered discussion on issues & challenges relating to tourism & hospitality at recent times like demonetization & its impact on tourism & hospitality industry, revolutionizing dining out culture in India and role & contribution of different media on tourism.
The Conference ended with vote of thanks given by Head of School of Tourism and Hospitality, Mr. Alok Prasad.