Events
CNC Machine shall enhance the technical competence of the students
Efforts of Sanskriti University with MSME is bringing Results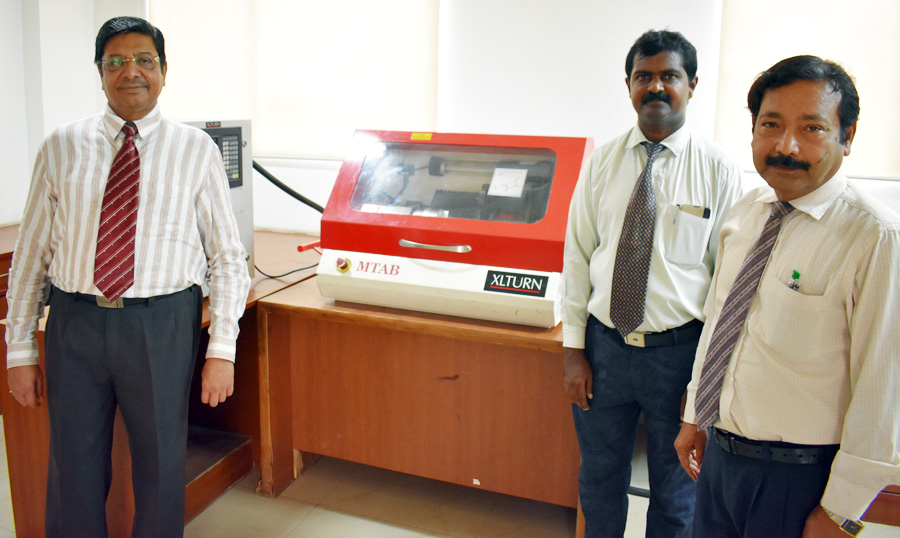 Mathura. The Sanskriti University has incorporated CNC i.e. Computerized Numerical Control Machine in the center for excellence to make the students skilled and globally competitive. Now the students will not be required to travel out of Mathura to learn the modern techniques about CNC.
Sanskriti University has been successfully running a Centre for Excellence at Sanskriti University is association with MSME and PPDC Agra. The centre has machines with modern technologies. The Management of Sanskriti University has signed up Memorandum with MSME PPDC Agra to provide skill development with an outcome based approach to the students.This is the first and the only centre in Uttar Pradesh. Very recently, the CNC Machine has been established in the MSME Centre for Excellence at Sanskriti University.
The Head of Department of Mechanical Engineering Mr. Vincent Baloo that most of the automotive and manufacturing companies are phenomenally dependent on CNC Machines. It is very safe to operate and manage these machines and hence their demand is very high in modern times. In comparision to many other machines, the CNC machines are being produced in large quantities. This is one of the important reasons why the usage of CNC machines is going on increasing in the process of production by various industries. Mr. Baloo said that currently wide varieties of CNC Machines are available which vary from 2 access to 5/7 access. Some of the access work horizontally, whereas some of the other access work vertically. The CNC Machines have various types of control systems. Till now, 5 Access are majorly used in the control system in the CNC Machines. Professor Nirmal Kundu said that more and more latest machines will come to Sankriti University as an outcome of the association between Sanskriti University and MSME.
Pro-Vice-Chancellor Dr. Abhay Kumar said that the students of ITI, Diploma Engineering, and B.Tech. Students will be getting the maximum advantage. The students will not face any difficulty in getting a job after becoming adept in handling the CNC Machines. The knowledge, skills and competencies of operating and managing the CNC Machines is very important for the boys and girls pursuing technical education. Every Machine has different features and functionalities and the process of controlling them varies from one machine to another. In some CNC machines, the picture moves, whereas in some otherCNC Machines, tools move. All the machines have their own distinct features, functionalities and advantages. It shall be the earnest endeavor of Sanskriti University to provide all required knowledge, skills and competencies which is required by modern industries.
छात्र-छात्राओं की तकनीकी दक्षता बढ़ाएगी सीएनसी मशीन
संस्कृति यूनिवर्सिटी और एमएसएमई के प्रयास ला रहे रंग
मथुरा। तकनीकी शिक्षा के क्षेत्र में छात्र-छात्राओं को विश्व प्रतिस्पर्धी बनाने के साथ ही उनमें आधुनिक टेक्निक का समावेश करने की खातिर संस्कृति यूनिवर्सिटी ने अपने सेण्टर आफ एक्सीलेंस में कम्प्यूटराइज्ड न्यूमेरिकल कंट्रोल मशीन (सीएनसी) को भी जगह दे दी है। अब छात्र-छात्राओं को आधुनिक तकनीकी ज्ञान के लिए मथुरा से बाहर जाने की जरूरत नहीं होगी।
ज्ञातव्य है कि संस्कृति यूनिवर्सिटी और एमएसएमई पीपीडीसी आगरा के संयुक्त प्रयासों से यहां सेण्टर आफ एक्सीलेंस संचालित है। इस सेण्टर में रोबोटिक के साथ ही आधुनिकतम तकनीकी मशीनें मौजूद हैं। संस्कृति यूनिवर्सिटी प्रबंधन ने तकनीकी बदलाव के इस दौर में छात्र-छात्राओं को कौशलपरक शिक्षा में पारंगत करने के लिए एमएसएमई पीपीडीसी आगरा से अनुबंध किया है। सेण्टर आफ एक्सीलेंस की जहां तक बात है, यह उत्तर प्रदेश का इकलौता सेण्टर है। हाल ही यहां कम्प्यूटराइज्ड न्यूमेरिकल कंट्रोल मशीन (सीएनसी) को स्थापित किया गया है।
मैकेनिकल इंजीनियरिंग के विभागाध्यक्ष विंसेट बालू का कहना है कि आज के समय में आटोमेशन और मैन्यूफैक्चरिंग कम्पनियां सीएनसी मशीन पर ही आश्रित हैं। इस मशीन को ऑपरेट करना बहुत ही सुरक्षित होता है यही कारण है कि आजकल इस मशीन की डिमांड बहुत ज्यादा है। दूसरी मशीनों की तुलना में इस मशीन का प्रोडक्शन बहुत ही ज्यादा होता है यही कारण है कि आजकल इंडस्ट्रीज में खासकर प्रोडक्शन में सीएनसी मशीन का उपयोग लगातार बढ़ता जा रहा है। श्री बालू का कहना है कि आजकल मार्केट में सीएनसी मशीनों की बहुत सी किस्में उपलब्ध हैं जिसमें किसी में 2 एक्सेस, किसी में 3 एक्सेस, किसी में 4 एक्सेस और किसी में 5 से 7 एक्सेस होते हैं। कोई होरिजेंटल काम करता है कोई वर्टिकल काम करता है। मशीन के कंट्रोल सिस्टम भी अलग-अलग होते हैं। अभी तक इस लाइन में 5 कंट्रोल सिस्टम ही ज्यादा यूज किए जाते हैं। प्रो. निर्मल कुंडू का कहना है कि एमएसएमई और संस्कृति यूनिवर्सिटी के बीच हुए अनुबंध के तहत यहां के सेण्टर आफ एक्सीलेंस में और भी लेटेस्ट मशीनें आएंगी।
प्रति-कुलपति डा. अभय कुमार का कहना है कि संस्कृति यूनिवर्सिटी के सेण्टर आफ एक्सीलेंस में सीएनसी मशीन लग जाने से आईटीआई, डिप्लोमा इंजीनियरिंग तथा बी.टेक. के छात्र-छात्राओं को काफी फायदा होगा। इस मशीन के संचालन में दक्ष होने के बाद छात्र-छात्राओं को जाब हासिल करने में किसी प्रकार की कोई परेशानी नहीं होगी। आज के समय में टेक्निकल छात्र-छात्राओं के लिए सीएनसी मशीन के संचालन का ज्ञान बहुत जरूरी है। हर मशीन के अपने अलग-अलग फीचर्स और उन्हें कंट्रोल करने के अलग-अलग तरीके होते हैं। किसी मशीन में पिक्चर मूव करते हैं तो किसी मशीन में टूल मूव करता है। किसी-किसी मशीन में पिक्चर और टूल दोनों मूव करते हैं। सभी मशीनों की अपनी अलग-अलग खासियत है। मशीनों में बनाए जाने वाले कम्पोनेंट के हिसाब से इन मशीनों का उपयोग किया जाता है। संस्कृति यूनिवर्सिटी का प्रयास है कि यहां छात्र-छात्राओं को हर वह जानकारी दी जाए जिसकी औद्योगिक क्षेत्र में डिमांड है।