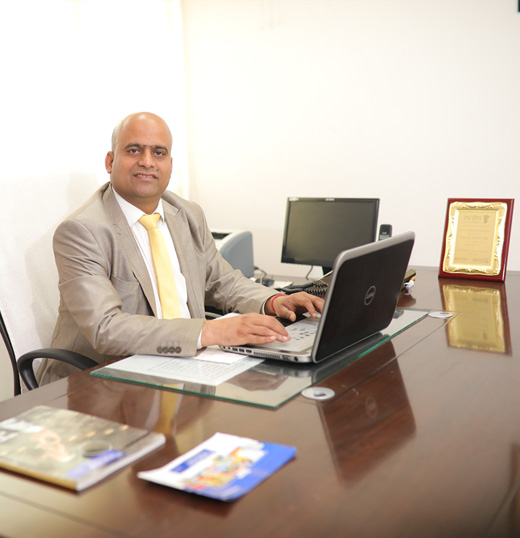 Dr. Rana Singh -
Vice Chancellor
Sanskriti University, Mathura
Dr. Rana Singh is a seasoned techno-business professional having two decades of experience in the domain of academics, research, training, quality assurance and consulting. Dr. Singh is the former Director of Army Institute of Management & Technology, Greater Noida. Earlier he has served as Director of Institutional Effectiveness at University of Jazeera, UAE. Dr. Singh moved to UAE in 2012 to provide training to Banking, Finance and Insurance professionals of UAE on invitation of Emirates Institute of Banking and Financial Studies which is UAE''s only institution promoted by the Central Bank. Thereafter he was working with Gulf Medical University as Assistant Director of Institutional Research and Planning. Dr Rana Singh is an MBA (Gold Medalist) with specialization in Finance and a Ph.D. in Management. He has two decades of experience in academics, research, consulting, training, academic planning and administration including setting up and promoting private university and technical institutions approved by regulatory bodies on turnkey basis.
At 40 years of age, Dr. Rana has authored three books - Insurance: Master Stroke Investment, How to Organize Successful Press Conferences and Treasury Management. He has conducted various MDPs particularly in finance, insurance, portfolio management and equity research. He has provided consultancy to various corporate entities in the areas of financial management, technology enabled initiatives, e-commerce and related areas. He has published books, journals, articles in various Indian and Canadian dailies and magazines. He has served as an editor of international management journal listed in Cabell's Directory, USA. He has been guiding various research scholars pursuing Ph.D. in Management under his supervision. He was editor of leading research journal "Delhi Business Review".
Dr. Singh has been giving advice to various governments and ministries in strategic planning, implementation and control. Dr. Singh has been working in the domain of Strategic Planning, Implementation and Control for various organizations, higher educational institutions and government bodies. He is recipient of various state and national awards. He was recently conferred with "Bihar Gaurav Samman" and BR Ambedkar National Award in 2018.
Learn more about Dr. Rana Singh at - www.ranasingh.org