Anti-Ragging Drive
Sanskriti University campus including hostels is ragging free zone. Zero tolerance (of ragging) is achieved by effective implementation of strict measures by the management.
ANTI RAGGING - CORE COMMITTEE

S.No.
Name
Designation
Rank
Contact No.
1
Pro Abhay Kumar
Pro Vice Chancellor
Chairperson
08938999942
2
Dr D.K. Sharma
Director-School of Pharm. Sc.
Member
09456960536
3
Dr Sanjeey Kr Singh
Associate Dean-Engineering
Member
09411677363
4
Dr Nirmal Kundu
HoD-Management Studies
Member
08979485021

ANTI RAGGING SQUAD

1
Mr Dileep Kumar Singh

Chief Proctor

Chairperson
09719556400
2
Dr Neeraj Kumar
Deptt. of Physiotherapy
Member
09005411557
3
Dr Durgesh Wadhawa
Deptt. of Chemistry
Member
09719260836
4

Dr Zafar Javed

Deptt. of Unani Med. Sci.
Member
08791655865
5
Dr Yogesh Kr. Pandey
Deptt. of Ayurvedic Med. Sci.
Member
07800424342
6
Dr Ranjana
Deptt. of Agriculture
Member
08005031772
7
Mr Karamjeet
Deptt. of Education
Member
07889444838
8
Mr Vivek Srivastava
Administrative Officer
Member
07088010497
9
Mr Geetam Singh
Warden
Member
08077216168
The Honorable Supreme Court of India has clearly instructed all concerned to maintain "zero tolerance" against ragging. The Hon'ble Supreme Court has defined ragging as "any disorderly conduct whether by words spoken or written or by an act which has the effect of teasing, treating or handling with rudeness to any junior student."
For strict compliance of Supreme Court's verdict, Sanskriti has constituted committee and squads to ensure that there is no ragging. The committee is headed by a Dean while faculty members, staff and administration personnel are other members of the committee.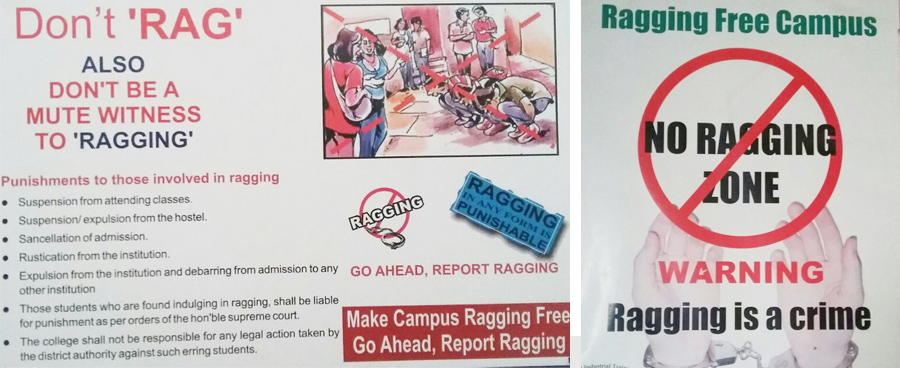 Senior students are also involved in anti ragging campaigns as volunteers. Each student of the first year and his/her parents and/or guardians are required to submit a joint undertaking at the time of registration, in the prescribed format, promising that they will not be involved in any case of ragging. Parents of each student are also instructed in writing to advise their wards about serious consequences in case of involvement in ragging.
All concerned officials of the university and members of Anti-ragging committees & Anti-ragging squads are advised to adhere to the directives of Hon'ble Supreme Court and effectively monitor and ensure strict compliance.
Anti-ragging posters have been displayed at strategic places in the campus as part of an awareness drive. Faculty members and the staff have been instructed to keep a watch on senior students. Mobile numbers of anti-ragging committee members are made available to the freshers for immediate help in case of emergency.
'Ragging prone zones' have been identified and manned by security staff 24x7 for avoiding any unpleasant incidence. The entire team of Sanskriti University is available at all times to help the freshers. Police help is also available, in case of need.